Today is officially the most depressing day of 2019. The third Monday of January has been dubbed the day of the year that people feel most down, which seems to make sense.
Surveys show that 26% of the UK claim they feel most isolated throughout the month of January. January seems to produce withdrawal symptoms from the highs of the Christmas period. As we all know Monday is everyone's least favourite day, and the third week of the month is often the worst too. It's a combination of all of these things which has created 'Blue Monday'.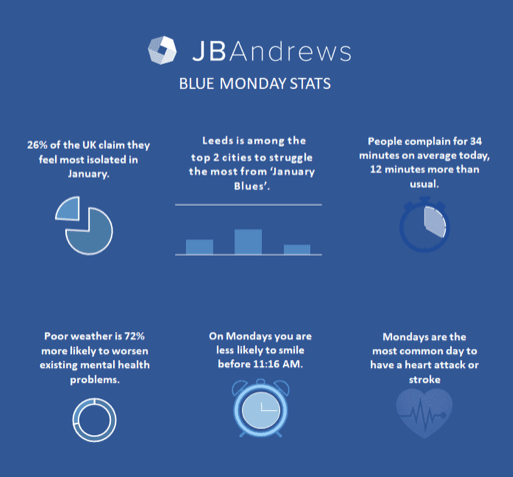 At JBAndrews we take mental welfare very seriously. Because of this we have teamed up with MIND Leeds who are pushing 'Multi-coloured Monday' to combat the 'blueness' associated with the day. In support of this, today we will all be wearing blue suits & ties with multi-coloured socks as well as making a donation to MIND Leeds, the biggest mental health organisation in Leeds. We think it's a fantastic concept for MIND to have come up with and we fully support the great work they are doing across the city of Leeds! We urge our followers across the globe to get involved and post their 'Multi-coloured Monday' pictures to help spread awareness about Mental Health and make donations to your own local mental health organisations.
We will be posting 'Multi-coloured Monday' content across all our social media platforms though out the day so follow JBAndrews on Instagram, Twitter and Facebook to see more JBAndrews X Multi-coloured Monday content. Have a great Multi-coloured Monday!